The Difference Between VG and PG in E-liquids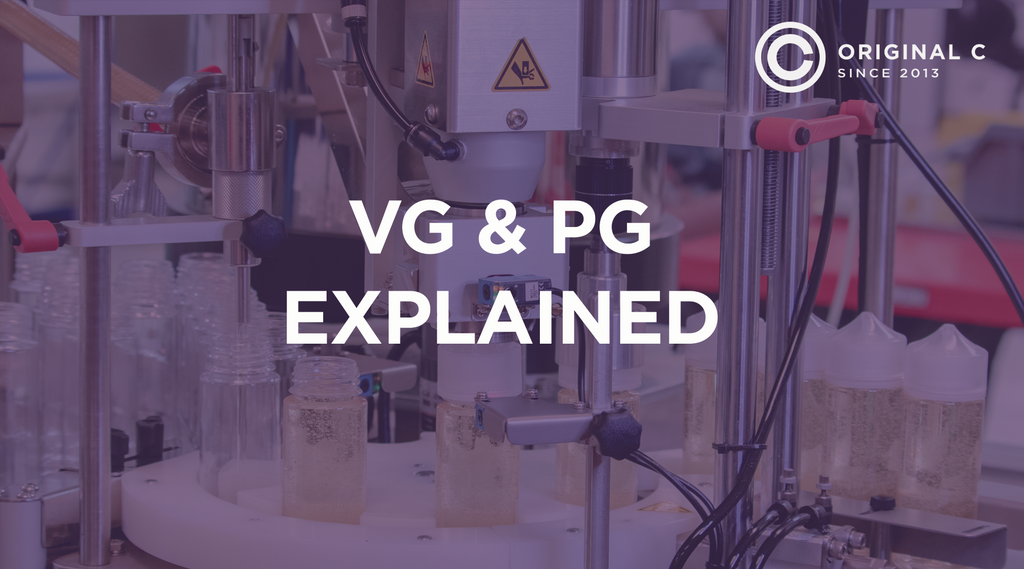 Finding the right PGVG ratio and nicotine strength are two of the most important things you should consider when looking for the right vape juice and eliquid that best suits your style of vaping. Especially so if you're new to vaping - after first making the decision to give vaping a go; the last thing you want to do is read chapter and verse on what seems like a daunting world of 'drippers', 'ohms' and 'PGVG ratios'.

At first, it might seem like an overly complicated technical term but once you get your head around it, you'll be able to understand the basics of eliquid and why it's so important that you choose the right one for the best vaping experience.

This blog will help you to understand the differences between VG-based and PG-based vape e-liquids. We will take you on a journey to learn the different elements that make up vape juice to help you as a vaper, make more informed choices when purchasing your e-liquid. We've put together the ultimate guide to help you get to grips with all you need to know!

As vape e-liquid manufacturers with decades of experience in producing hundreds of millions of vape e-liquid bottles for a multitude of the UK's biggest eliquid brands, we are one of the most qualified companies to offer guidance on vape e-liquid and its ingredients.

E-liquid Ingredients
Vape juice is created using four primary ingredients. Both PG and VG (vegetable glycerin) are used as dilutions in the e-juice.

PG refers to Propylene Glycol
Propylene Glycol is widely known as an odourless and clear liquid. It also has a touch of sweetness. PG is an ingredient used in many products including cosmetics, pharmaceuticals, and household cleaners.

VG is Vegetable Glycerine
Vegetable glycerin is much thicker than its PG counterpart. It is also odourless but has a tendency to be sticky because - as you might have guessed from the name - it is made from vegetable fat. Vegetable Glycerine is commonly used in food for its sweetening ability, as well as pharmaceuticals including medicine and toothpaste. VG or Vegetable Glycerine is commonly derived from coconut oil and soya beans.

Flavouring
Selecting the right flavour for you is pivotal in ensuring that you stick to vaping and ditch smoking. There is no right or wrong selection - just like our taste in food - everyone has their own likes and dislikes. At Original C - we have something to cater for all tastes. Whether menthol is your bag, you don't touch anything but blackcurrant - or if tobacco is your trusted flavour, we've got flavours to suit everyone's needs. With literally a bounty of combinations of e-juice flavourings used, today's vaper certainly isn't short of choice! 

Flavourings usually account for 10% to 30% of the vape juice ingredients. Don't be fooled - more flavouring doesn't equate to a superior taste. It's very easy to spoil an eliquid with too much which can leave a bitter taste. Surprisingly, e-juice only requires small amounts of flavouring.

What's interesting is that the nation's favourite has always been menthol - by a mile off! That's why Original C has a variety of menthol flavours to choose from - Menthol, or Ice Menthol. We even offer a Heisenberger which is a take on the famed Vampire Vape flavour - a concoction of mixed berries (blackcurrant) and menthol.

Nicotine 
We're all familiar with nicotine. This is the key part of any liquid (except of course the zero strength, which we will delve in to later!). Nicotine is an extract from the tobacco plant. It is the addictive substance that is found in cigarettes and it is what makes you addicted to cigarettes. The reason why e-cigarettes have become such a successful method of harm reduction is because it allows the nicotine delivery without the harmful effects and carcinogens found in the tar and toxins of cigarette smoke.

Nicotine is mixed in to vape e-liquid in liquid form. Here at Original C - not only do we use pharma-grade nicotine, it has been pharmaceutically tested - going above and beyond the industry standards.

So why do PG VG ratios matter?
It matters a great deal! Finding the right ratio is very important in you as a vaper finding the right vaping experience. You might be someone who does not want huge clouds of vapour and just wants to feel the right throat hit to satisfy your body's craving for that same smoking sensation - or on the flip side, you might find satisfaction in lots of vapour production. Therefore, if you're left unsatisfied with your vape - you may be tempted to revert back to smoking.

There are pros and cons to both PG (Propylene Glycol) and VG (Vegetable Glycerin), which is why both diluents are used in e-liquid production.

High PG E-liquids
Vape e-liquids with a higher PG ratio will offer more of a throat hit - similar to that of smoking cigarettes. As PG is a thinner liquid, it produces less vapour - much more suitable for vaping 'under the radar'.

This type of e-liquid works better with mouth-to-lung style vaping. Mouth-to-lung is the type of vaping which is similar to the style of smoking a cigarette - where you inhale the smoke / vapour in to your mouth before taking it in to your lungs. Vape pens and starter kits are typically the best vape kits for this type of vaping, as well as high PG vape juice.

What happened to Cirro E-liquids?
The vape e-liquid brand Cirro changed their PGVG ratio from 60/40 to 50/50 in 2021. This, in addition to their recipe change resulted in a complete change in the overall taste of the much-loved liquid. This is a classic mistake and highlights the importance of getting the PGVG ratio right.

The Cirro brand's change in PGVG ratio left many of their customers unhappy. Luckily for them, the creators of the Cirro recipe, Original C - launched making the same great taste available for customers who long for that same great taste.

High VG E-liquids
E-juice with high VG content produces more vapour. High VG E Liquids are perfect for vapers who aspire to be a cloud chaser! They tend to be more suitable for higher wattage vape kits and sub-ohm devices - also known as 'mods'. High VG E Liquids are used for direct-to-lung vaping which allows the vaper to inhale the vapour directly in to their lungs - bypassing the mouth which is the usual format of smoking a cigarette.

High VG produces a smooth throat hit and carries more of a sweetness than vape e-liquids with high PG. High VG Vape Juice is commonly used in short-fill e-liquid that comes in 100 ml bottles or larger. As shortfills are nicotine-free, they require a nic shot to be added to the mix so that they make up the desired nicotine strength.

Additionally, higher VG liquids tend to burn out coils much faster due to the thickness of the eliquid.

Eliquid Recommendations
The best ratio of vape e-liquid all depends on your personal preference. However, most eliquid is made from a combination of PG and VG of either 60/40 or 50/50. All of Original C's single flavours are made with the original Cirro ratio of 60/40, whilst the blended flavours are 50/50.