Cirro E Liquid Flavours, Original Recipes Made in UK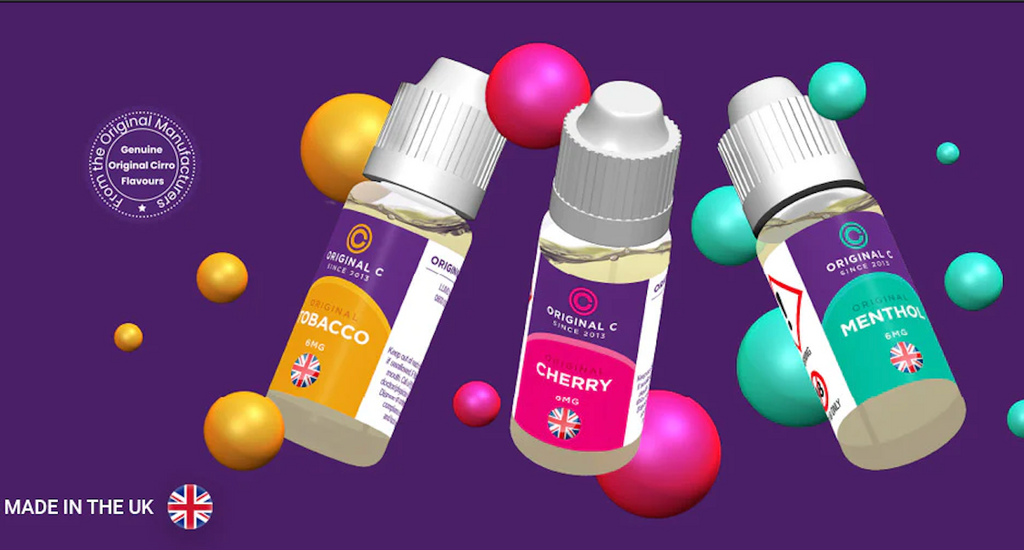 Did Cirro e liquid change? Why did it change?

If you've been a original Cirro user for a while, you've probably noticed the recent changes in flavors and your overall vaping experience. These adjustments are the result of Cirro's deliberate choice to move their e-liquid production to Europe, specifically Poland, in 2021. Bringing about alterations in the ingredients and the PG:VG ratio in their recipes, this also resulted in a noticeable and substantial change in taste.
Who makes Cirro E liquid to day? Where can I buy it?

The good news is that if you're seeking the original recipes, strengths, and PG:VG ratios, you're in luck. We are the original manufacturer of Cirro e-liquids, and you can trust that the flavors remain entirely consistent with what you know and love. Up until 2021, Lumo Liquids produced the Cirro brand, using the recipe developed in 2013 when Cirro was first introduced. Since then Lumo Liquids (and now Livelco) sold the Original C E Liquids which use the original Cirro recipe and are made in the UK.
Check out the World of Original Recipe Cirro E Liquid Flavours!
So now that you know that the flavours & strengths are exactly the same as the original Cirro E-liquid you are used to, let have a look at the Cirro flavours. The Cirro blueberry e-liquid as many vapers know and love is available in 3 different strengths of nicotine - 6 mg, 11 mg and 18mg - allowing you to choose the right mg of nicotine to suit your needs.  Choose 6 mg bottle if you are a casual smoker - 11 mg e-liquid is advised for moderate smokers, and 18 mg juice is the best if you're a heavier smoker.  
.
Explore our Original Utterly Menthol e-liquid and savor the refreshing and invigorating vaping experience. It's an excellent option for those transitioning from menthol cigarettes. Our menthol e-liquid is brimming with minty coolness, crafted using the authentic Cirro menthol formula and maintaining the beloved 80/20 PG VG ratio you're familiar with.
Our Tobacco E Liquid is where our journey began, serving as the inaugural flavor in the Cirro vape brand, now brought to you by Original C. This e-liquid encapsulates the rich, woody, and oak-like aroma closely associated with traditional tobacco cigarettes. It maintains the original Cirro recipe with an 80:20 PGVG (propylene glycol/vegetable glycol) ratio. When you try Original C's Tobacco E Liquid, you won't be able to distinguish it from the long-lost Regular Tobacco flavor.
Sweet, tart and fresh, our cherry vaping e-liquid is the founding flavour and continues to be a bestseller. It's the perfect choice if you're looking for a fruity, flavoursome e-liquid that you'll never grow tired of. Our Original cherry e-liquid is available in a PG VG ratio of 80/20 which gives the perfect vape throat hit for a similar delivery of nicotine to that of smoking a cigarette..
The Original Vanilla E-liquid, which is the authentic Cirro Vanilla Sundae e-liquid recipe that you've cherished, is now proudly offered by the original Cirro manufacturers once more. This creamy vanilla-flavored e-liquid strikes a harmonious balance between sweetness and smoothness, complemented by a subtle note of custard, delivering the perfect nicotine experience for your e-cig vape. The 80/20 PG/VG ratio in our Original Vanilla E-liquid precisely mirrors the Original Cirro recipe, ensuring an exact match of the flavor you know and love.
If you're in search of the genuine Cirro Strawberry Sensation flavor e-liquid, your quest ends here. Known for its fruity and sweet profile, this strawberry e-liquid is a 10 ml vape favorite, offering the delightful taste of fresh, juicy strawberries with a subtle tangy twist. Original C's Strawberry e-liquid is a delightful nod to the UK's favorite strawberry jam, enhanced with hints of strawberry laces that many of us have cherished. This sweet strawberry concoction creates the perfect e-liquid for those leisurely summer evenings.
Packed with the delightful essence of blueberries, this vape e-liquid strikes the perfect harmony between the sweetness of blueberry and vapor production. The iconic Cirro Blueberry E-liquid that many vapers hold dear is available again, allowing you to rediscover the fantastic taste and genuine ingredients in Original Cirro's Blueberry vape liquid.
Our Original Menthol Ice E-liquid delivers a burst of minty freshness with an extra chilling sensation, providing a revitalizing and crisp flavor experience. This Menthol Ice E-liquid faithfully adheres to the original Cirro recipe for an ice-cold menthol delight, ensuring you get the flavors you already cherish from the original manufacturer. If you're a fan of our menthol e-liquid, you're bound to adore Menthol Ice even more.
For those who relish the cool allure of menthol in their vape, why not indulge in the fusion of flavors with our Original Heisenberg E-liquid? It's a delectable blend of blackberry and menthol that faithfully follows the exact e-liquid recipe and ingredients you've come to adore from Cirro, particularly Cirro's Heisenberg. You're in for a treat with this flavorful vape e-liquid.
.
WHICH NICOTINE STRENGTH IS BEST FOR ME?
You can select options from three different strengths to enjoy the right amount of nicotine with a smooth strawberry taste.  From 6 mg, to 11 mg, or 18 mg nicotine. So how do you know which is the right mg nicotine strength for you? Here is a little guide to help you work out what strenthts would match your habits / needs best.
6mg - Casual / social smoker - under 10 cigarettes per day
11mg Average smoker - Between 10 - 20 cigarettes per day
18mg Heavy smoker - Over 20 cigarettes per day
Crafted with the finest quality e-liquid ingredients and each 10 ml vape bottle manufactured in EU GMP Pharma-grade facilities right here in the UK, our popular flavours delivers the perfect taste with just the right level of vapor production. Whether you're new to vaping e-liquid or seeking to explore new vape liquid flavors, our Original Cirro Recipe E-liquids we believe are an excellent choice, guaranteed to delight your taste buds every time with its wide range of flavours. Any questions, just drop us a line via chat.